BlueStar Streaming and Arktouros now offer flexible, multi-purpose film, video and photography studio hire.

BlueStar Streaming and Arktouros now offer flexible, multi-purpose film, video and photography studio hire.

Based in Bridgeton,in Glasgow East End and easily accessible by car or public transport, our custom studio space is perfect for video or photo shoots.

Our studio is available as dry hire or we can provide a wide range of production services for managed shoots. For dry hire, you can bring in your own crew, equipment and catering. We'll do our best to accommodate most requests.



The space available to hire is approximately 40㎡ (including the waiting/review area). We are on the top floor with large windows, so there is plenty of daylight and views across the surrounding area. Full blackout blinds and theatre curtain to control light and minimise sound are available as part of the studio set up.

We offer tailored solutions, specific to your requirements and budget to ensure the best impact and return.

Facilities include:
Large white /green screen
• Free wifi
• Free parking
• Free coffee /tea
• Kitchen and food prep area including fridge, microwave, oven
• Friendly professional staff, to help with queries & technical advice

Hire of the studio space includes free use of our waiting / review area with:
• Comfortable sofas /coffee table
• Dressing and ironing area and makeup mirror
• 55″ HD TV, with HDMI and VGA inputs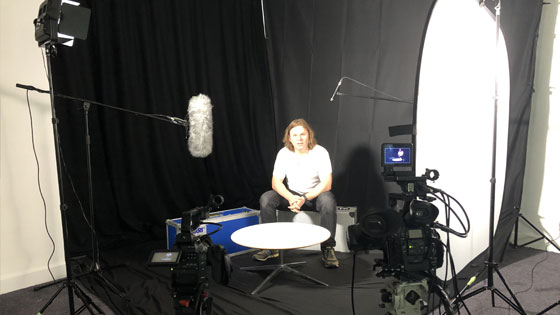 Production Kit Hire
Save on costs, transport and storage by hiring your kit from us. We offer competitive camera and kit hire including: Cameras • Tripods/stands • Lighting packages • Gimball (DJI Ronin)
Our experienced team can provide support if needed. Contact us to discuss.
Studio Services
We can offer the following services. • Crew • Cameras • Lighting • Live Streaming • Podcasts • Specialist kit • Production Packages • Catering – external catering can be arranged, advance notice required. Contact us to discuss.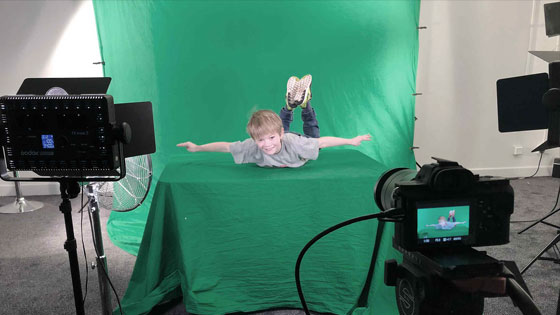 Pricing
The studio space can be hired Monday to Friday 9am – 5pm, evenings and weekends on request, subject to availability.

Full day – 8 hours [9am -5pm] £125
Half day – weekdays £70

All prices subject to VAT at the time of invoicing. Deposit of 25% required to confirm booking. Contact Us to discuss your requirements and book your studio hire. We also offer studio shoots.